iDSI launches new communication platforms for the global health community
ต้องการข้อมูลเพิ่มเติม ติดต่อฝ่ายสื่อสารองค์กร HITAP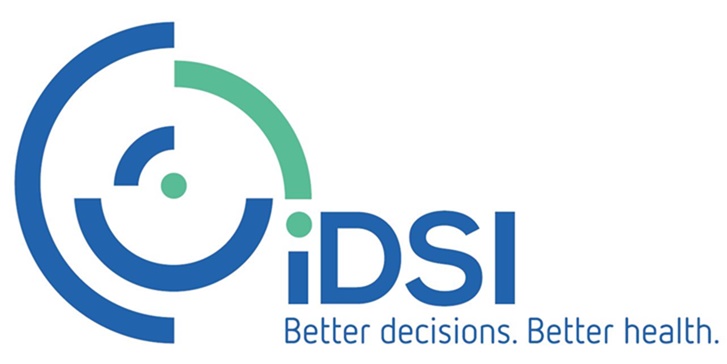 We're very excited to announce that iDSI has a new and much improved website! We believe that the new site will better serve the global health community: providing access to key resources to support the advancement of healthcare systems and connecting people with our network of health economists and global health experts. You can find our website at the same address: www.idsihealth.org (let us know your thoughts on the new look and features!)

Throughout this week we will be posting blogs that highlight new features of the website, starting with our six key themes:
• Tackling healthcare challenges
• Strengthening health systems and institutions
• Generating and using evidence
• Smart purchasing for UHC
• Value for money for sustainable development
• Measuring impact
Our key themes represent iDSI's approach and principles in supporting low and middle income countries to make better informed decisions about their healthcare spending and policies. By publishing both our technical content and blog posts under a key theme we hope to present our work in an organised and discoverable manner.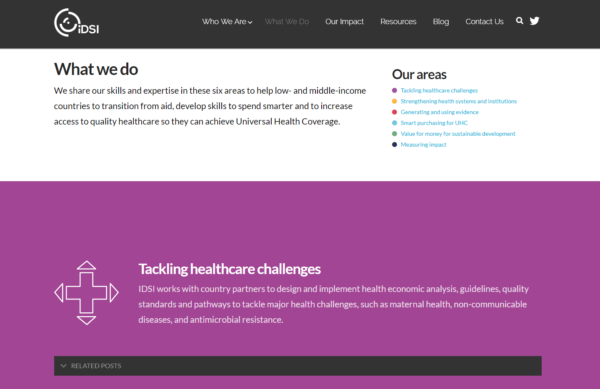 The six key themes are introduced under the 'What we do' section of the site, with a summary introducing the theme. Related posts are displayed under a drop-down box.
iDSI Knowledge Gateway
In addition to our website we are proud to introduce the iDSI Knowledge Gateway. We have moved all of our technical documents and knowledge products to a new space on the F1000Research website, under the same six key themes. F1000Research are an Open Access publisher and services provider for the life sciences community – the perfect place to host our outputs so they can be easily discovered and accessed by those looking for technical support to inform decisions made within healthcare.
Browse our content on the iDSI Knowledge Gateway here: https://f1000research.com/gateways/iDSI and share with your colleagues!
Stay up to date as we post about more of the new features on the website: follow us at @idsihealth and sign up for our newsletter using the form in the right hand side bar.
By Claire Turner Sep. 25, 2017
5 October 2017