HTA Capacity Development across Asia
ต้องการข้อมูลเพิ่มเติม ติดต่อฝ่ายสื่อสารองค์กร HITAP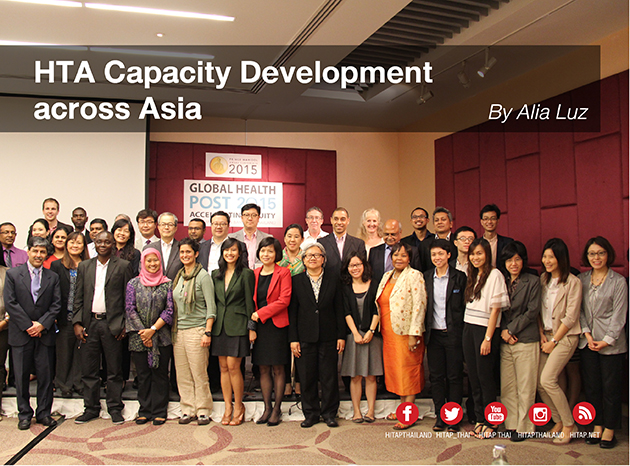 There was an overriding theme that HITAP's activities focused on during the Prince Mahidol Award Conference (PMAC) 2015 – priority setting, which is also the theme for next year's PMAC. As a new member of the HITAP team, I was involved in different activities during the Conference, particularly helping out at the PMAC 2016 booth and two side meetings. The first meeting was on the Asia Pacific Observatory (APO) policy brief.
The APO, with support from HITAP and NICE international, brought together HTA practitioners and agency representatives from China, Korea, Malaysia, Taiwan, and Thailand to develop a policy brief on Conducive Factors to HTA Development in Asia. Most of them I had already met in November 2014 during the Policy Brief meeting. In addition to the country working paper authors, researchers from respective institutes in India, Indonesia, the Philippines and Vietnam were also invited to share country's experiences on the recent efforts for HTA introduction in these settings. There was a good turnout, and attendees came from different backgrounds, such as academic institutions, civil societies, donor agencies, HTA agencies, government health departments or ministries, industries and other public and private sector agents. The objectives of the meeting were to get feedback from this broad range of audiences on the draft APO brief, to raise awareness of the HTA establishment and its use in policymaking, and to provide information to other countries committed to UHC. As part of the team that collated and edited this report, this was particularly relevant for me.
Topics for the presentations were on the question on whether UHC itself is a conducive factor or challenge to HTA development, the development of individual stakeholders and its linkage to development of institutional capacity as well as policy, the development of networking capacity and the link with policy decision-making, and the key enabling factors for the integration of HTA in health systems. Some of the issues during discussions included the need for priority setting in all kinds of contexts (especially resource-limited countries), opportunities and difficulties in the political process and possible distortionary effects of technologies, demand generation vs. answering current demand for HTA in countries, the need for and challenge of good quality data from LMICs, and generalizability/exportability of research in one setting to another. The findings from the discussions of this side meeting will be used to produce a practical guide (chapter on recommendations) for the policy brief.
6 March 2015