Are COVID-19 vaccines with 90% efficacy always better than ones with 70% efficacy?
ต้องการข้อมูลเพิ่มเติม ติดต่อฝ่ายสื่อสารองค์กร HITAP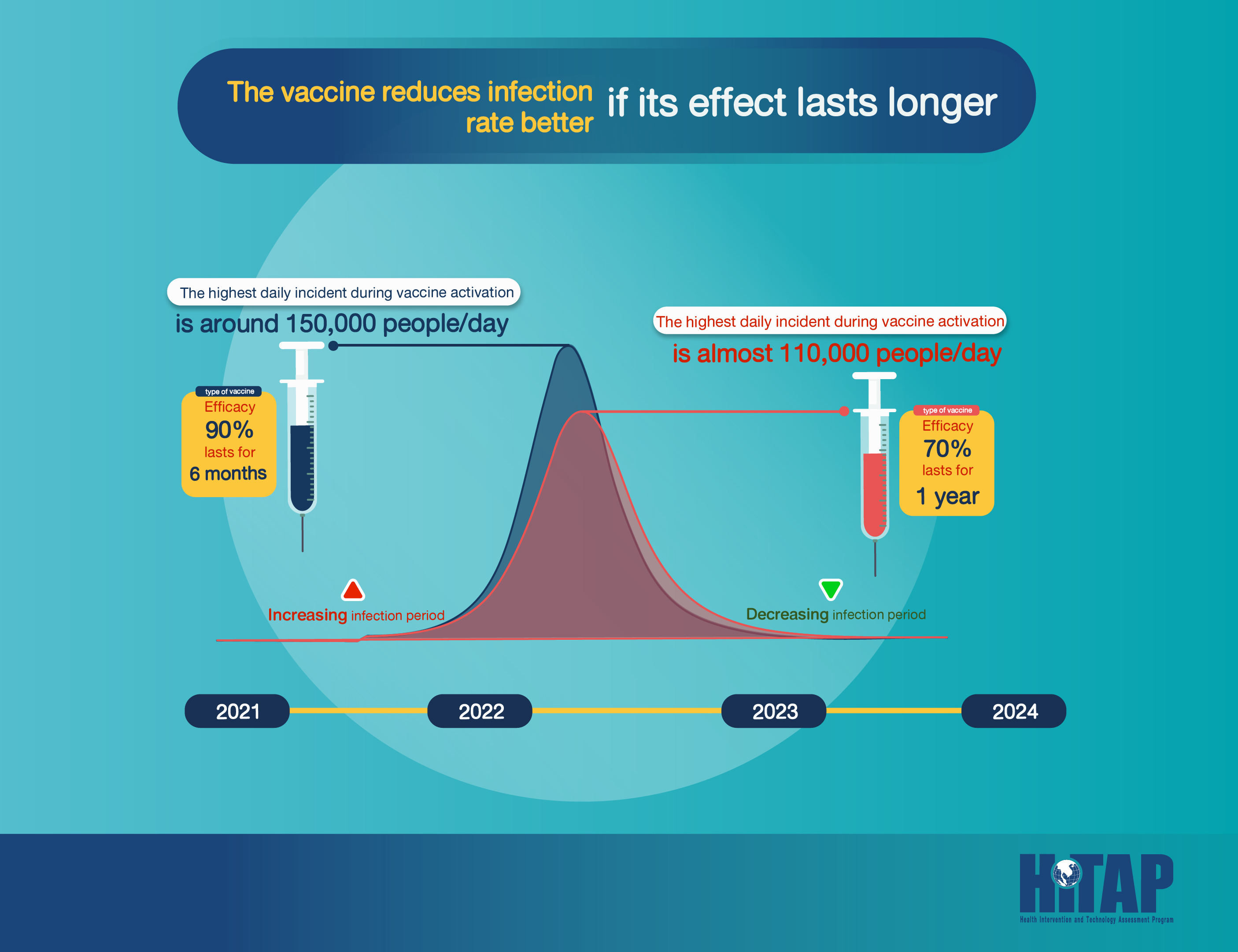 In the late year of 2020, the COVID-19 vaccines in the news which claim itself for possessing 90% efficacy seems to be the light at the end of the tunnel for all population in the world. All eyes are being kept on the upcoming promising vaccines while ones with lower efficacy are seen sceptically.
However, one of the main factors contributing to better transmission control and infection reduction is the duration of protection of the vaccine.
The study conducted by HITAP together with Mahidol-Oxford Research Unit found that if there are a 90-percent-efficacy vaccine of which its effect lasts for 6 months and a vaccine with 70% efficacy that is active for a year, the latter one will combat the epidemic better. The graph shows that the highest daily incident after the administration of the higher-efficacy vaccine is around 150,000 people a day, while the other that lasts longer could protect 40,000 more citizens, giving the highest infection rate 110,000 people per day at most. The vaccine with longer duration of protection also delays the spread of COVID-19 at least a week compared to the one with shorter duration.
That means we have just reached the first milestone to the ideal vaccines, surpassing the WHO's benchmark of vaccine efficacy.
The next milestone that we should keep our eyes on instead is the duration of its protection. Since all promising vaccines have been launched for only 3 months, we may have to wait and see how they go.
And don't forget to take good care of yourself.
11 February 2021