How Should Ethiopia's Government Respond to COVID – 19 in a Cost Effective Way?
ต้องการข้อมูลเพิ่มเติม ติดต่อฝ่ายสื่อสารองค์กร HITAP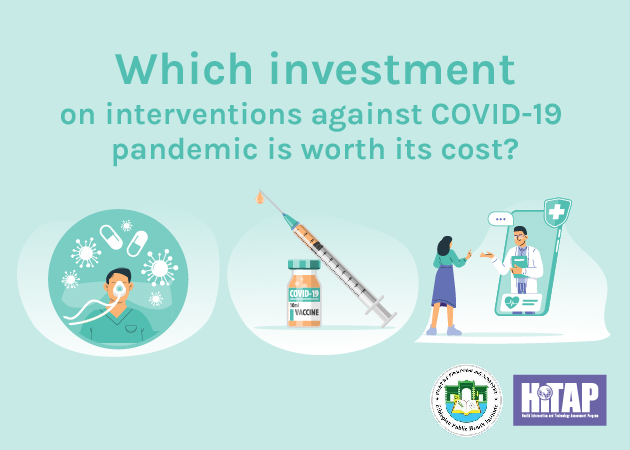 To support government decision-making to address the COVID-19 outbreak, the National Data Management Center (NDMC) of the Ethiopia Public Health Institute (EPHI) conducted a systematic review of the economic evaluations of public health measures for the prevention and control of pandemics. The study explored literature published between the years 1998-2020 on pharmaceutical and non-pharmaceutical interventions including stockpiling drugs and vaccines, treatment with antivirals, prophylaxis, vaccination, testing, tracking exposed persons, personal protective, school closure, equipment, quarantines, and border closure.
Premises wise, the findings of the study revolved around two major pillars. First, it has been shown that interventions' stockpiling and treatment are cost effective. In that regard, stockpiling drugs for the treatment of sick patients was shown to be profitable. Parallel to that, it has been made clear that treatment with antiviral drugs and vaccination was also cost effective. Most importantly, for many reasons, government's decision to close school was also shown as cost effective for a pandemic with a high fatality ratio.
Second, vaccination appears as a key treatment under many circumstances. However, in the case of influenza, it has been shown that the early availability of vaccine before the peak time of the pandemic determined the vaccine's economic value; it was more cost-effective if available before peak time. Besides, vaccinating high risk groups was shown highly cost effective followed by extending the vaccination to schools and low risk groups. Since vaccines have their own costs, vaccinating all population is cost effective if the cost of the vaccines is cheaper (this is compared to individuals' per capita income and the country's GDP).
Moreover, it has also been shown that other intervention mechanisms can be cost-effective as well. For instance, the combination of antiviral prophylaxis on people with contact history and school closure was shown more effective than targeting the whole population with antiviral prophylaxis. In addition, a combination of healthcare testing, contact tracing, use of isolation center and mass-symptom screening were found cost effective for a pandemic with at least 0.1% disease prevalence. Parallel to that, testing all symptomatic patients and treating those with only positive test results was also shown to be more effective.
Given these points, the prevention and control mechanism of COVID-19 in Ethiopia need a critical look at existing facts. Provided that the nation is faced with massive scarcity of foreign currency and inflation of items, it would be a challenge to get everyone vaccinated. However, it would be crucial for effective implementation and financial sustainability as shown in the study if the Ministry of Health systematically applies action plans which go in line with economic evidence. Other low- and middle-income countries like Ethiopia can benefit from this study and use the evidence to assist policy makers and authorities invest in interventions with a minimum cost.
The Health Intervention and Technology Assessment Program (HITAP) supported the conduct of this study and offered the team of NDMC an online training on the basics of conducting systematic reviews of economic evaluations (see the following link for more details Sifting for Gold: Systematic Review of Economic Evaluations Training). The training has served to put a milestone for Ethiopia's and Thailand's relation in the health sector.
18 May 2021