Momentum for HTA in the Land of a Thousand Hills
ต้องการข้อมูลเพิ่มเติม ติดต่อฝ่ายสื่อสารองค์กร HITAP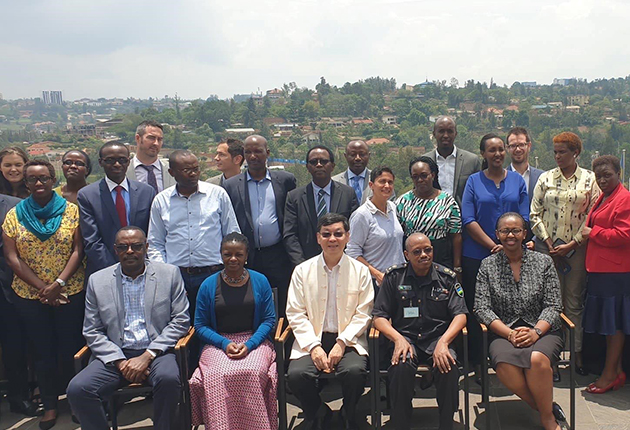 In October 2019, the Health Intervention and Technology Assessment Program (HITAP) and the National Health Foundation (NHF), two partners in the Asia Health Technology Assessment (HTA) consortium, were thrilled to take an 8000 km trip to Rwanda to talk all things 'priority setting' at a workshop in Kigali, the country's capital.
The two-day workshop titled "Using Evidence for Decision-Making and Health Benefits Package Design" was led by the Government of Rwanda and University of Rwanda's School of Public Health, with support from the International Decision Support Initiative (iDSI), a global network of priority setting institutions comprising, among others, the Centre for Global Development (CGD), Clinton Health Access Initiative (CHAI), HITAP and NHF, and also the Disease Control Priorities (DCP).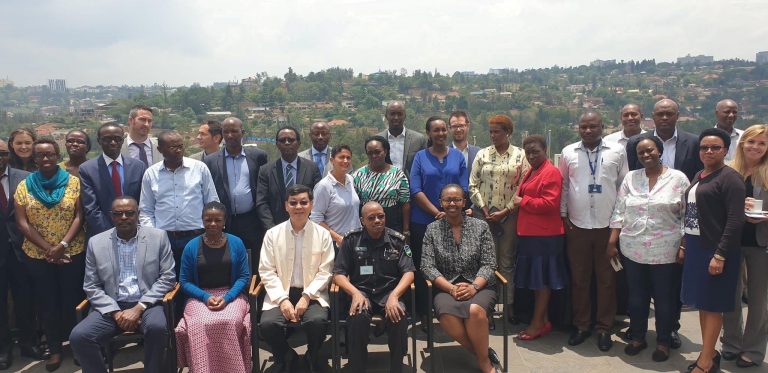 Speakers, facilitators and participants at the Priority Setting seminar in Kigali, Rwanda in October 2019
So why was this workshop convened?
Well, Rwanda, aptly known as the land of a thousand hills due to its hilly landscape, has made strides in terms of healthcare in the past twenty-five years. The country has undertaken significant healthcare reforms and successes of its health system have been well documented. Life expectancy has doubled since 1995 and it has been the only country in the region to meet the targets within the three health-related Millennium Development Goals.[1] Rwanda has demonstrated strong commitment towards universal health coverage (UHC); its Community-Based Health Insurance (CBHI) covers over three-quarters of the population. A hot topic now within the Rwandan government is around setting priorities fairly to ensure long-term sustainability of its process. As with all countries, needs are unlimited in Rwanda but resources are limited, and decisions need to be made on how best to allocate these resources. In light of these developments, an introductory workshop on priority setting was seen as timely and was organised by the Rwanda Social Security Board (RSSB), the manager of the CBHI in collaboration with iDSI.
Dr. Somsak Chunharas, President of NHF and former Deputy Minister of Public Health in Thailand, was invited to join the workshop to share experiences from Thailand, a country that implemented UHC as a lower-middle income country back in 2002. On the first day, Dr. Somsak talked about Thailand's experience of implementing, which did not happen overnight; the foundations of UHC were laid 27 years prior to its inception with the launch of the Low-Income Scheme in 1975. The Low Income Scheme gave financial risk protection to the poorest Thai citizens. Dr. Somsak went on to discuss how the establishment of research institutions, strong civil society support, strengthening of primary healthcare, financial incentive programme for health workers in rural areas, and UHC champions in the civil service – to name a few factors – have all been instrumental to the achievement of UHC in Thailand. The institutionalisation of HTA, a tool for rational and explicit priority setting in healthcare, he added, has been critical for the sustainability of UHC in Thailand.
On day two, Dr. Somsak spoke more specifically on the role of HTA in Thailand, and how, in spite of the common belief, HTA is more than just an economic evaluation. HTA is a participatory process that requires stakeholder engagement to build trust in the process for evidence-informed policy making. He urged workshop participants in Rwanda to "not make HTA an isolated academic exercise". There was great interest in the room on how Thailand implemented the Peritoneal Dialysis First (PD First) Policy. There was great pressure from advocacy groups and decision-makers to include dialysis in the UHC benefits package, given that dialysis is a life-saving treatment that incurs catastrophic out-of-pocket health spending for households. An HTA study commissioned by the UHC manager found both PD-First and Hemodialysis (HD)-First policies to be cost ineffective against the Thai threshold but PD-First was deemed to be the more cost-effective option and in 2008, a PD-First policy was initiated in Thailand. Dialysis in Rwanda is mostly paid for out-of-pocket, and there is growing pressure for the RSSB to consider and evaluate renal replacement therapy options.
Dr. Kalipso Chalkidou and Dr. Peter Baker, Director and Deputy Director of iDSI, respectively, led thought-provoking sessions and practical exercises on priority setting. Dr. Peter facilitated an informative session on HTA concepts, where he asserted that HTA "is not for cost cutting, it is about allocating money where it has the most impact".
An interesting discussion point following Dr. Peter's session was on whether priority setting conflicts with a human rights approach to health. 'Health for all' is a guiding principle for healthcare in Rwanda and a rights-based approach to health has not only been implemented but it is evident in the Rwandan Constitution. The participant touched on a topic that is widely debated in the literature, however voices in the room echoed how the protection of the right-to-health and explicit and fair priority setting can mutually support each other. Rationing is a stark reality of managing health systems, and avoiding this matter is unethical. The question is not 'to ration' or 'not to ration', but whether rationing is done implicitly or explicitly. What is more, cost-effectiveness should not be the sole driver of health care priority setting; there are important social, ethical and legal aspects for consideration. And after all, HTA is to inform thought not replace it.
All the stakeholders present spoke with passion and made excellent contributions over the two days. This is a sign, no doubt, of what is to come in terms of evidence-informed priority setting in Rwanda. Rwanda is taking the lead of its own HTA journey with great momentum and iDSI partners are pleased to be part of this initiative. Rwanda, we are excited to see what you do next!
[1] World Health Organization. (‎2018)‎. WHO country cooperation strategy at a glance: Rwanda. World Health Organization. https://apps.who.int/iris/handle/10665/136986
2 January 2020