Join our expert online community for GEAR database
ต้องการข้อมูลเพิ่มเติม ติดต่อฝ่ายสื่อสารองค์กร HITAP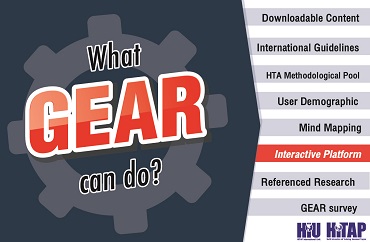 Are you an expert in economic evaluations?
Do you want to guide researchers around the world generate better evidence?
We are calling for expert volunteers to join our Guide to Economic Analysis Research (GEAR) database. Your expertise in health economics can make a difference in generating better evidence for better decisions in low- and middle-income countries.
What you can do for GEAR
Share your knowledge and expertise with economic evaluation researchers facing methodological difficulties or needing insight for their work
Help ensure that evidence in decision-making is of high quality and based on well-thought out methodologies
Push the boundaries of knowledge transfer and exchange in the field of health economics for low- and middle-income countries
What GEAR can do for you
Be at the forefront of the most up-to-date information and references for health economics
Learn from the GEAR community on existing and new developments, techniques, and methods as well as needs in different contexts regionally and globally
Explore the GEAR database's organic and forward-thinking features to assist your work, whether through picking up research questions and ideas or collaborating with others in the community
How to be a volunteer
The GEAR Database is a project under the International Decision Support Initiative (iDSI). The Health Intervention and Technology Assessment Program (HITAP) of the Thai Ministry of Health, one of the partners of iDSI, developed and manages the GEAR database.
If you are interested in joining our expert panel, please send your CV and list of publications to Ms Alia Luz (alia.l@hitap.net). She will facilitate the internal process for the GEAR expert panel.
30 November 2016