C19economics.org, the supporting platform for policymakers and researchers working on COVID-19 in Low- and Middle-Income Countries (LMICs)
ต้องการข้อมูลเพิ่มเติม ติดต่อฝ่ายสื่อสารองค์กร HITAP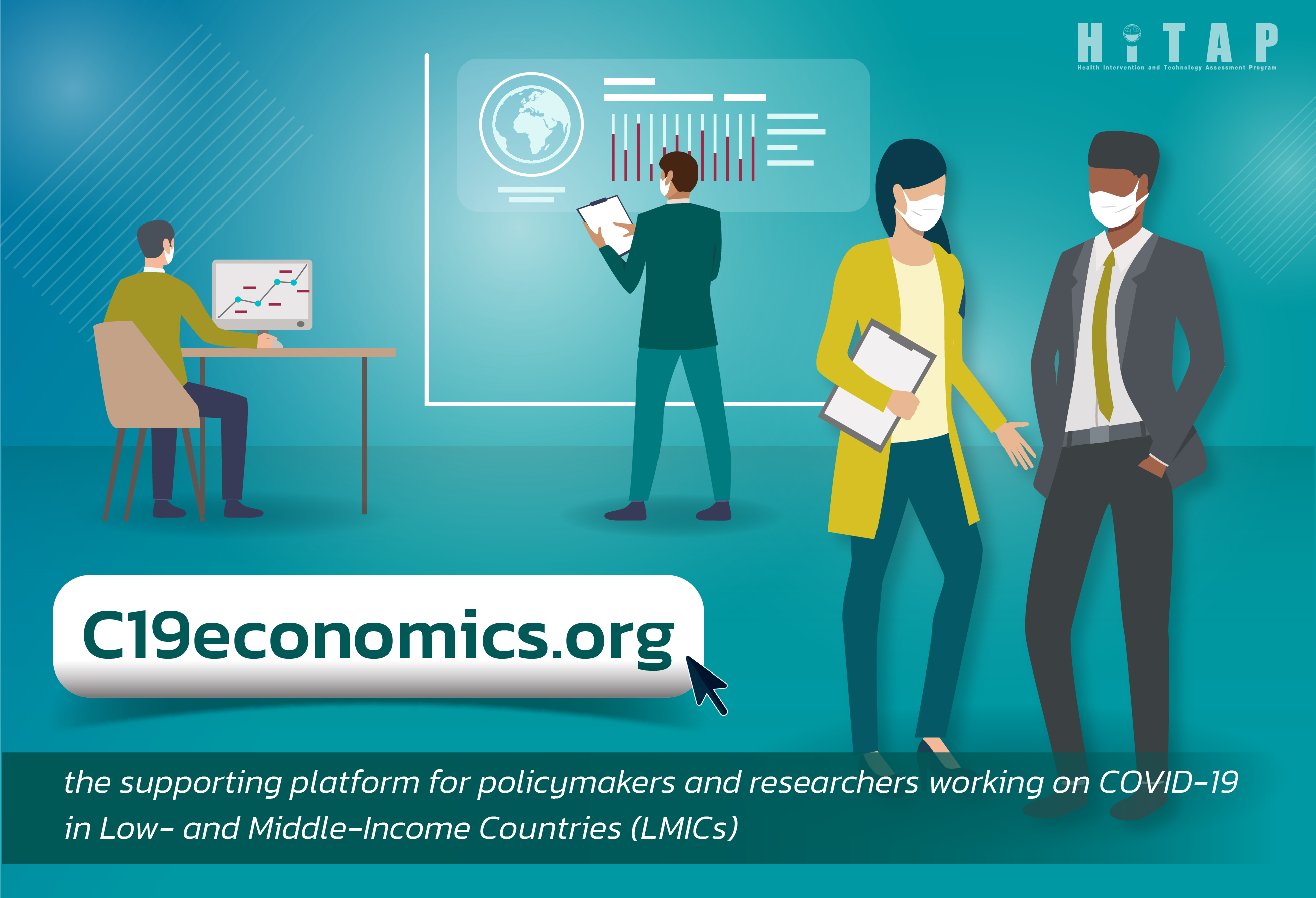 The IDSI (International Decision Support Initiative) and London School of Hygiene and Tropical Medicine (LSHTM) are pleased to announce the launch of the C19economics.org platform which aims to support policymakers and researchers working on COVID-19 in Low- and Middle-Income Countries (LMICs).
It has become obvious that many of us will live with COVID for the months ahead. For our work, this means continuation in restrictions of travel, limited face-to-face interactions, and on-going research or policy work to support planning of the COVID response, under substantial time and political pressure. The C19economics.org platform has been launched to support policy-makers (and their advisers) and researchers working on COVID, with a focus on LMICs.
C19Economics.org was created to curate experiences, data, tools and analyses, facilitate the meeting of researchers and decision-makers and support health economists generate evidence for policy across LMIC settings in a demand driven and scientifically robust fashion. The goal is to facilitate the sharing of experiences and provide analysts with access to a focussed set of resources, a space to informally receive peer support and review each other's work. In addition, the platform aims to provide decision makers and those who advise them with a space to link up with analysts, ask questions about research directly linking to their policy needs, and access summaries of relevant evidence. To this aim, C19economics.org contains a repository of evidence, an insights page (including summaries, blogposts and more), a discussion forum (open to all, sign up required) and will be running regular webinars and events on request from C19economics platform users.
C19economics.org is funded by the Bill and Melinda Gates Foundation, UK Aid and the Wellcome Trust. Partners of the website include UK Foreign Commonwealth and Development Office and the Health Intervention and Technology Assessment Program. Please reach out to Nuru.Saadi@lshtm.ac.uk if you have any query about the platform or wish to contribute to the platform (blogposts or events).
To learn more about C19economics, please visit the site here
18 November 2020