Learning From the Past and Planning for The Future: Triangle That Moves the Mountain
ต้องการข้อมูลเพิ่มเติม ติดต่อฝ่ายสื่อสารองค์กร HITAP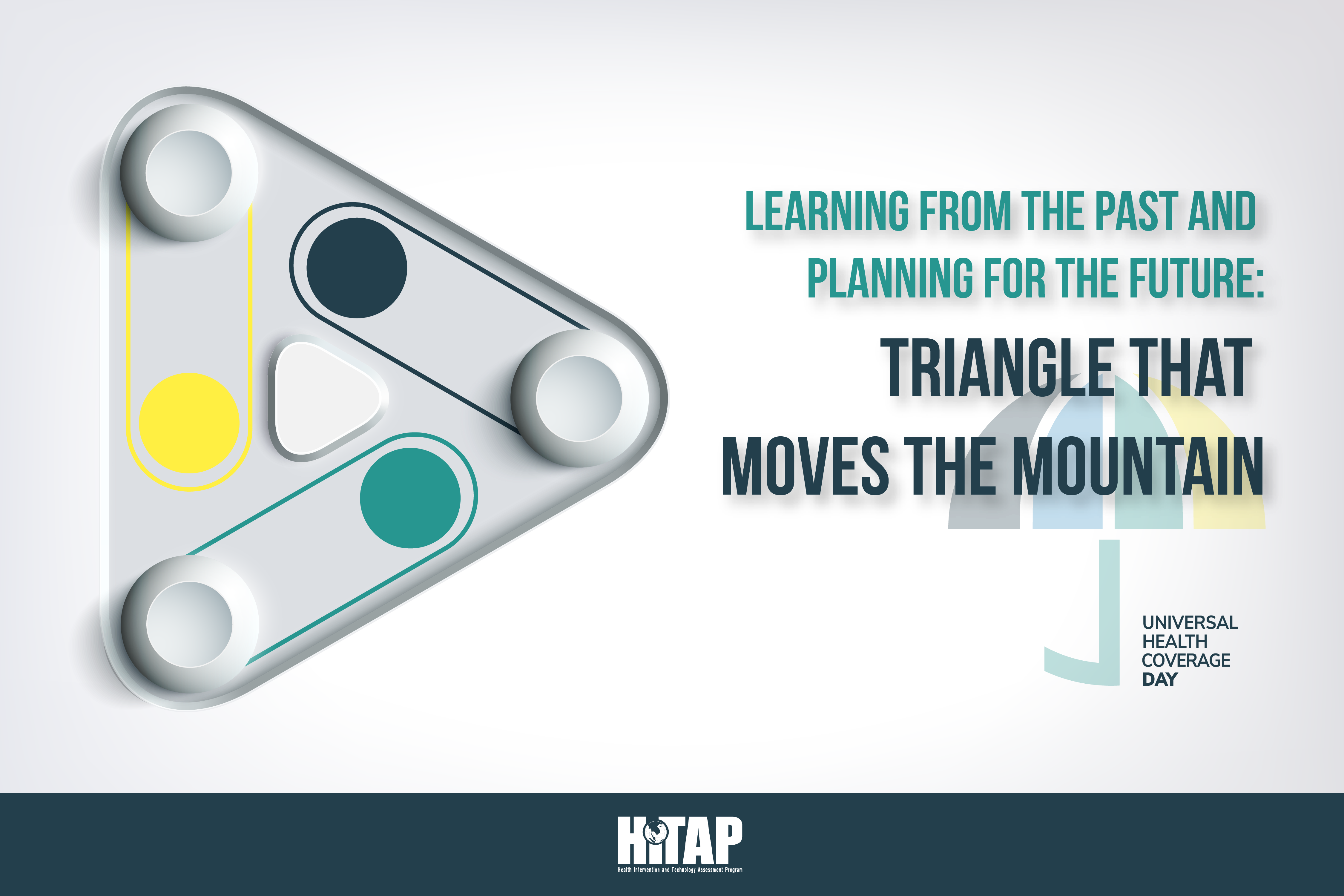 "The right to health for all people means that everyone should have access to the health services they need, when and where they need them, without suffering financial hardship."  – Dr Tedros Adhanom Ghebreyesus, Director-General, World Health Organization
Universal Health Coverage (UHC) is a health system in which all people have access to the healthcare services they need, without suffering financial hardship due to the cost. This means that everyone, regardless of their social or economic status, can receive the healthcare they need to maintain their health and well-being. As youth leaders in the new generation, it is important for us to understand the significance of UHC in shaping health policy around the world. Many countries have recognized UHC as a key component of their national health strategies, and there is a global movement to promote UHC as a fundamental human right. It is important for us, as youth leaders, to be involved in this movement and to advocate for the implementation of UHC in our own communities.
UHC in Thailand was achieved in 2002. Over the last two decades, many achievements have been made in improving the quality of Thai people's lives by increasing health access, making healthcare more affordable, and decreasing catastrophic health expenditures and out-of-pocket health spending. To mark International Universal Health Coverage Day 2022, Thailand's Ministry of Foreign Affairs, Ministry of Public Health, National Health Security Office, and ThaiPBS co-hosted a full day of public lectures and panel discussions to reflect on the 20-year journey of Thai UHC, identify challenges, and discuss strategies for addressing future challenges in the healthcare system.
One successful approach to achieving UHC is the "Triangle that Moves the Mountain" approach developed in Thailand (Wasi, 2000). This approach involves three key areas: creating relevant knowledge through research, building a social movement or engaging in social learning, and getting politically involved. By actively participating in these efforts, we can help move even the most difficult and seemingly immovable problems, like the goal of UHC, and work towards the goal of access to equitable and quality healthcare for all.
It is important for youth in the new generation to understand the role of policy management in achieving UHC. Professor Wasi introduced the Policy Wheel, a model that consists of 12 steps that form a full cycle, to help illustrate the process of policy management. The 12 steps include: (1) Data showing burden of the problem; (2) Public paper for political will; (3) Academic policy synthesis; (4) Policy paper for the public for social movement; (5) Political decision; (6) Policy instrument; (7) Policy movement group; (8) Creating Common Vision and Targets; (9) Plan of action; (10) Action of practice; (11) Follow action & problem solving; and (12) Results and Evaluation. As future youth leaders, it is crucial for us to be involved in each of these steps and to advocate for the implementation of UHC in our own communities. By getting involved in the policy management process, we can help to ensure that all members of our communities have access to the healthcare they need to live healthy, productive lives.
If There Is a Will, There Is a Way
During the panel discussion titled, "Not a bed of roses: 20-year pathway of Thailand's Universal Health Coverage – challenges and the way forward", representatives from various Thai health sectors shared their experiences in Thailand's UHC journey including the challenges, positive impacts, and going forward. There were a couple key takeaways worth mentioning to the youth today.
For young people, UHC is important because it helps to ensure that we have access to the healthcare services we need to maintain our health and well-being. This includes preventive services, such as immunizations and check-ups, as well as treatment for illnesses and injuries. UHC can also help young people access services related to reproductive and sexual health, mental health, and substance abuse (WHO et al., 2019). When everyone has access to affordable healthcare, it can promote social and economic stability and contribute to the overall health and well-being of society. This is important for young people as they will inherit and be responsible for shaping the healthcare system of the future.
As we cannot achieve UHC in a single attempt, it must be maintained continuously and collectively. We can never take a break. There is always opportunity for improvement, chances to increase service offerings, and populations that are being neglected. Today's youth should be encouraged to take on leadership roles and actively participate in the development of the country's UHC. As members of the new generation, we have the opportunity and responsibility to shape the future of healthcare and work towards a more equitable and sustainable system for all. Young people can be involved in the process of UHC sustainability and improvement by educating themselves about UHC, getting involved in advocacy efforts, participating in local and global health initiatives, supporting policies and initiatives that promote UHC, and sharing information about UHC with others. Creating a just and inclusive health system will not be possible without the participation from all parties in the society. By bringing in your contributions, academically, logistically, and politically, we can help move us closer and closer to our mutual goal.
The pathway for better health through UHC is an ongoing journey, not a destination. Let's join hands!
Reference
Wasi, P. (2000). "Triangle that moves the mountain" and health systems reform movement in Thailand. Human Resources for Health Development Journal, 4, 106-110.
WHO, UNICEF, Plan International, International Association for Adolescent Health, Partnership for Maternal, Newborn & Child Health, Child Health Initiative, UN Major Group for Children and Youth, UNFPA . 2019. Adolescent health – the missing population in universal health coverage.https://plan-uk.org/file/plan-adolescent-health-reportpdf/download?token=VVsY-cTp
Authors: Ryan Jonathan Sitanggang, Praewa Kulatnam, Manilung Nalongsak, & Dian Faradiba
16 December 2022
By
Ryan Jonathan Sitanggang, Praewa Kulatnam, Manilung Nalongsak, & Dian Faradiba