Bridging gaps in vaccinology: Enhancing capacity for effective vaccine distribution in Indonesia and other LMICs
ต้องการข้อมูลเพิ่มเติม ติดต่อฝ่ายสื่อสารองค์กร HITAP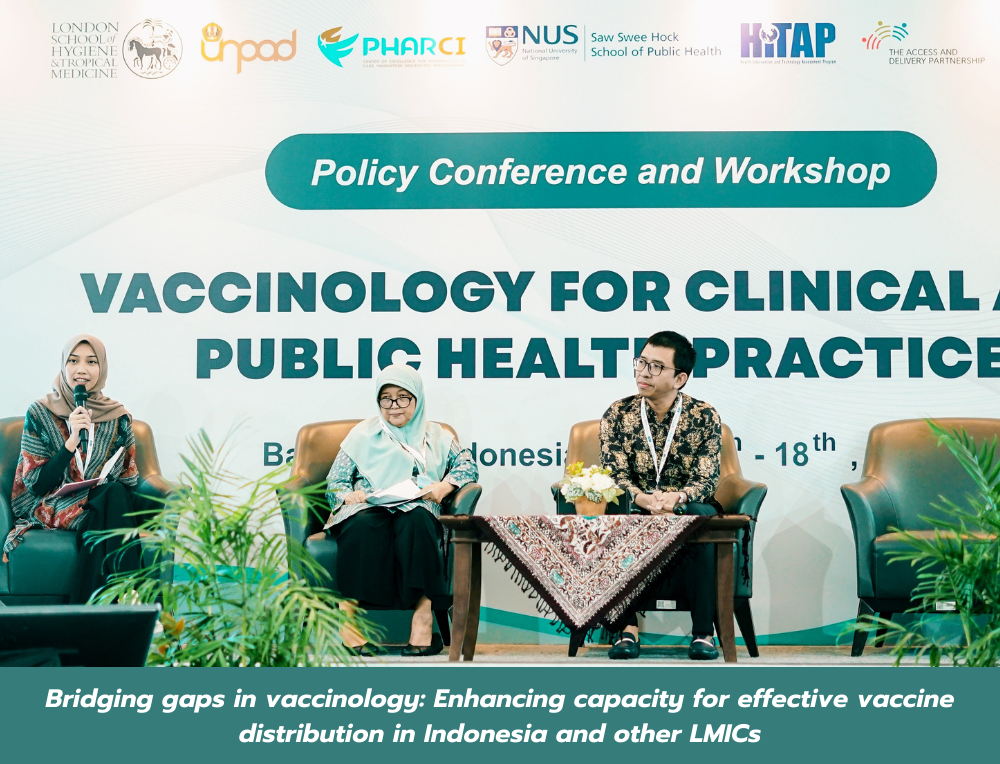 Khansa Chavarina, HITAP, Prof Mardiati Nadjib, Indonesia HTA committee, and Dr. Auliya Abdurrohim Suwantika, UNPAD, participate in a session on setting priorities for new vaccines, during the Policy Conference and Workshop on Vaccinology for Clinical and Public Health Practice in Bandung, Indonesia. Photo: HITAP.
The COVID-19 pandemic exposed vulnerabilities within national health systems, including in vaccine delivery and distribution. This has underscored the vital importance of having in place effective vaccination strategies and the need to strengthen national and regional capabilities in the field of vaccinology.
Low and middle-income countries (LMICs) can face challenges in accessing vaccines, whether due to cost or limited supply and in delivering them, due to inadequacies in infrastructure, human resources or technical capacities.
There is a need for capacity strengthening and knowledge transfer in this field, which take account of the particular needs of, and challenges faced by, resource-limited countries. It is essential to recognize the diversity of epidemiological, economic, logistical, and cultural conditions in LMICs, which necessitate strategies tailored to their context and needs.
The complex nature of new vaccines also highlights the importance of equipping a new generation of public health professionals with multi-disciplinary skills. They should have a comprehensive understanding of safety, efficacy, effectiveness, delivery mechanisms, required resources, including the need to establish and maintain public trust.
Through a multistakeholder capacity strengthening approach that brings together researchers, program managers, and policy makers to jointly learn about the multifaceted aspects of vaccinology, the gaps between science and policy implementation can be effectively bridged.
Recognizing this, the four-day course "Vaccinology for Clinical and Public Health Practice Course" was organized in Bandung, Indonesia from 15-18 May 2023. The workshop was part of a flagship course developed in collaboration with the London School of Hygiene and Tropical Medicine (LSHTM), the Saw Swee Hock School of Public Health (SSHSPH) at the National University of Singapore (NUS), and the Health Intervention and Technology Assessment Program (HITAP). It was supported by the Access and Delivery Partnership (ADP), Biofarma, and Universitas Padjajaran (UNPAD).
The course comprised two components; a policy conference and a technical workshop. Participants included over 75 professionals from diverse backgrounds, including public health researchers, academics, and policymakers. While many participants were from Indonesia, they were also joined by participants from the Philippines, Lao PDR, and Viet Nam. The objective of the course was to enhance scientific knowledge in the field of vaccinology, foster collaboration among stakeholders, as well as to facilitate South-South exchanges. The course was specifically designed to align with the local contexts, and featured national and international experts, who offered comprehensive insights into the vaccine life cycle from pre-to post-market authorization.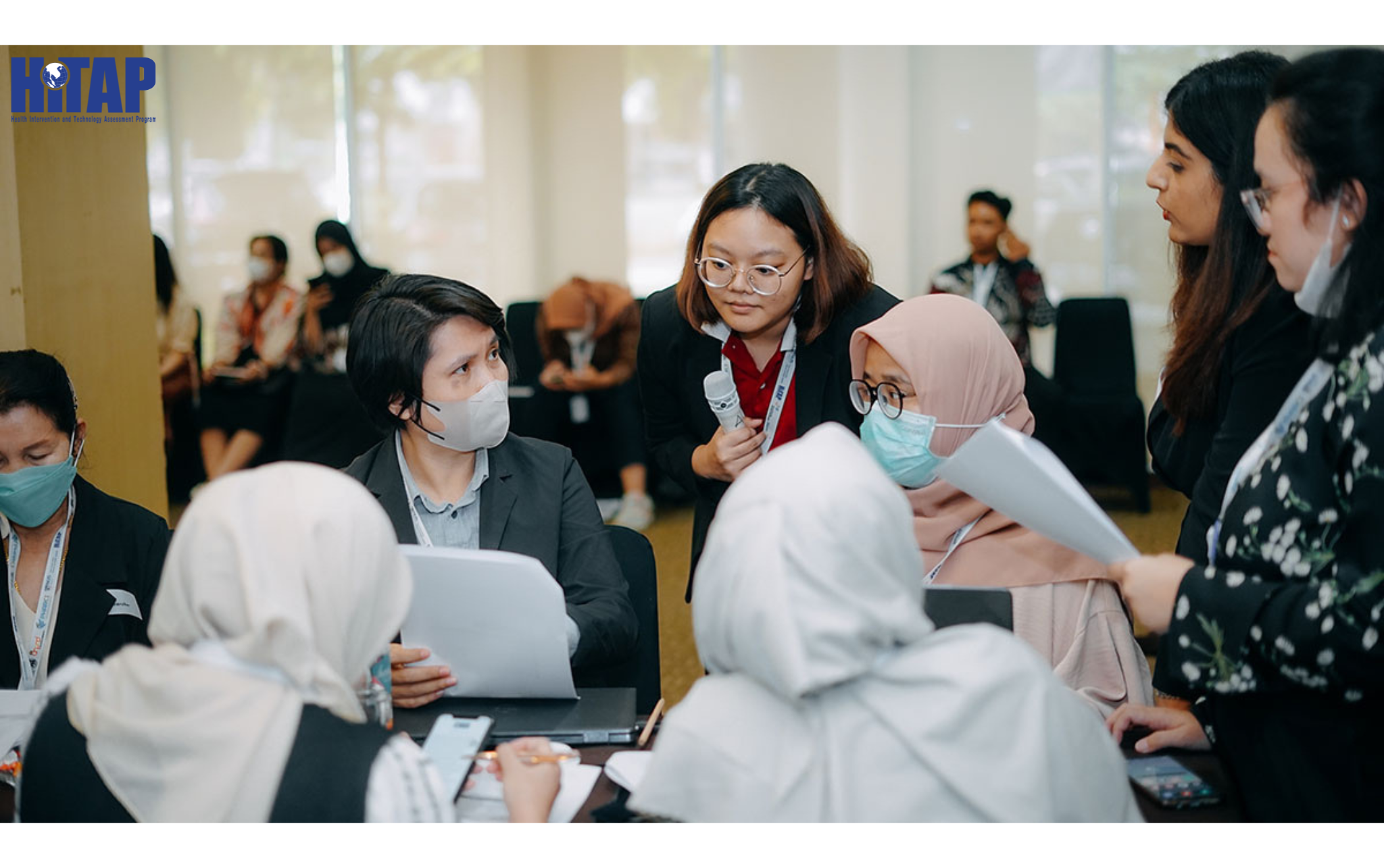 The workshop incorporated practical hands-on sessions and role-play exercises to provide participants with real-life experience and enhance their skills. Photo: HITAP
The policy conference covered topics of crucial importance in the national context: priority-setting for new vaccines; the role of technology within a national vaccination strategy; the use of evidence to inform vaccine policy development; and charting a path towards sustainable immunization programs and preparedness/response strategies.
The sessions sparked active discussions relevant to the national contexts of the participants. In the session on "Setting Priorities for New Vaccines," participants raised concerns about vaccine hesitancy and its impact on vaccination uptake. In Indonesia, it was noted that hesitancy was primarily driven by uncertainties about the Halal status of vaccines. The session also discussed the diverse barriers that can hinder the implementation and scale-up of new vaccines, including limited vaccine supply, high costs, constrained budgets, and perceived low disease burden. Participants discussed and proposed potential approaches and solutions to address these challenges, such as innovative financing models to ensure sustainable vaccine access, enhancing local manufacturing capacity to meet demand, and implementing comprehensive socialization programs to counter vaccine hesitancy.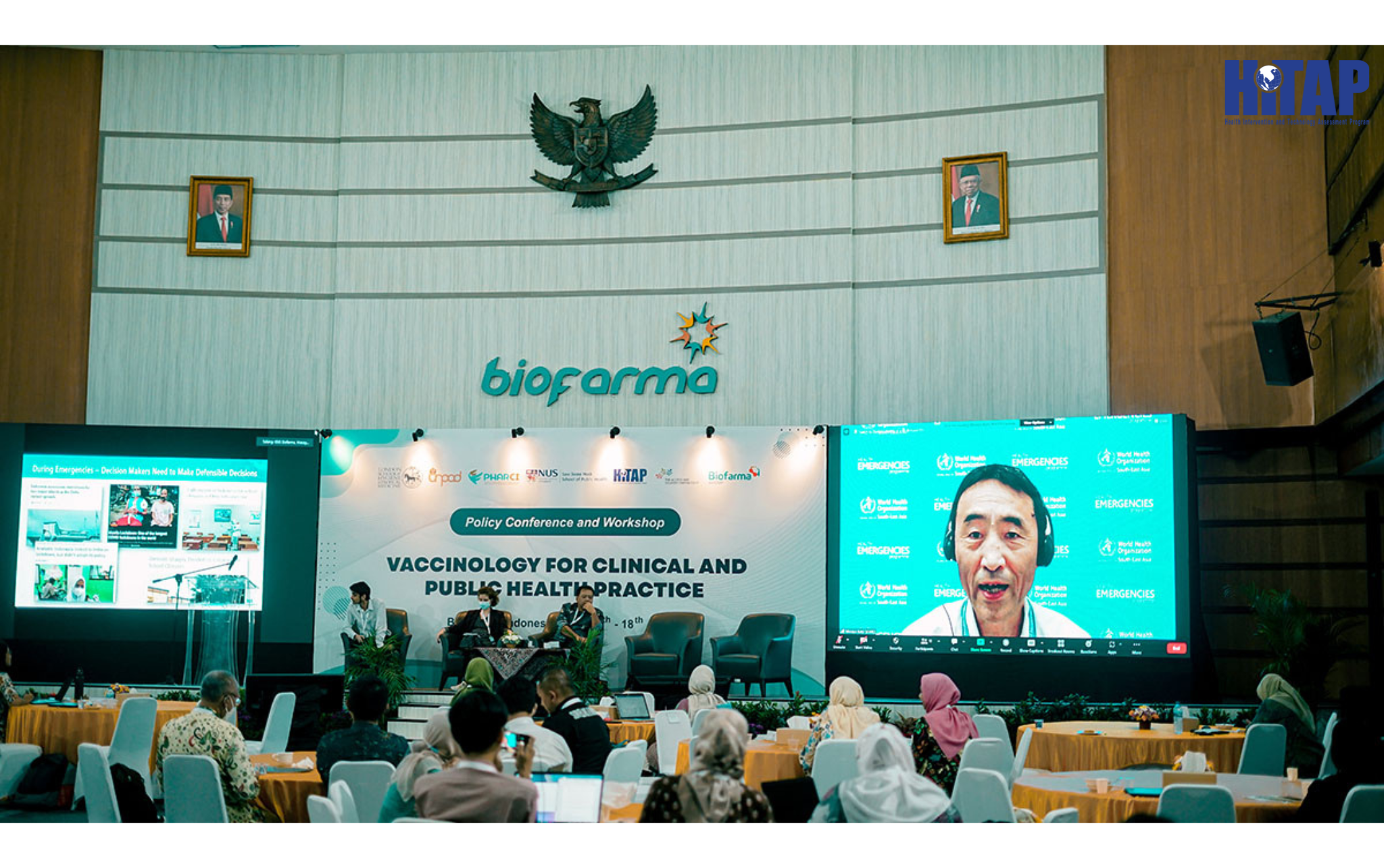 Dr. Masaya Kato from WHO SEARO speaks during a session on charting a path to sustainable immunization program and preparedness response strategies. Photo: HITAP
In the session on sustainable immunization programs and preparedness response strategies, lessons learned from the initiatives and strategies implemented during the COVID-19 pandemic were discussed. Key takeaways emphasized the importance of strengthening both health and non-health determinants, and the need to build capacity in modelling and collaborative surveillance, through improved data and information sharing.
Following the policy conference, the technical workshop was designed to cover essential vaccinology concepts, including infectious disease epidemiology, such as measures of association, indirect vaccine effects, modeling, and surveillance, and issues of vaccine safety and efficacy, such as clinical trials and statistical analysis. The workshop also delved into the concept of value for money, considering the costs and health outcomes of vaccination, and examined vaccine delivery strategies to ensure acceptability and equity. Finally, post-marketing evaluation was discussed to evaluate the effectiveness of vaccination efforts.
In offering this course in LMICs, the collaborating institutions aim to bridge the gap in capacity building and to equip health professionals with the necessary knowledge and skills. These efforts will contribute to strengthening national health systems, promoting evidence-based policies, and ultimately improving public health outcomes in LMICs.
For more information on this flagship course, please contact: vaccinologycourse@hitap.net
This blog was written by HITAP's International Unit (HIU).
The blog can also be found on Bridging gaps in vaccinology: Enhancing capacity for effective vaccine distribution in Indonesia and other LMICs (adphealth.org)
22 June 2023