From Development to Delivery: Reaching the Last Mile and the Way Forward
ต้องการข้อมูลเพิ่มเติม ติดต่อฝ่ายสื่อสารองค์กร HITAP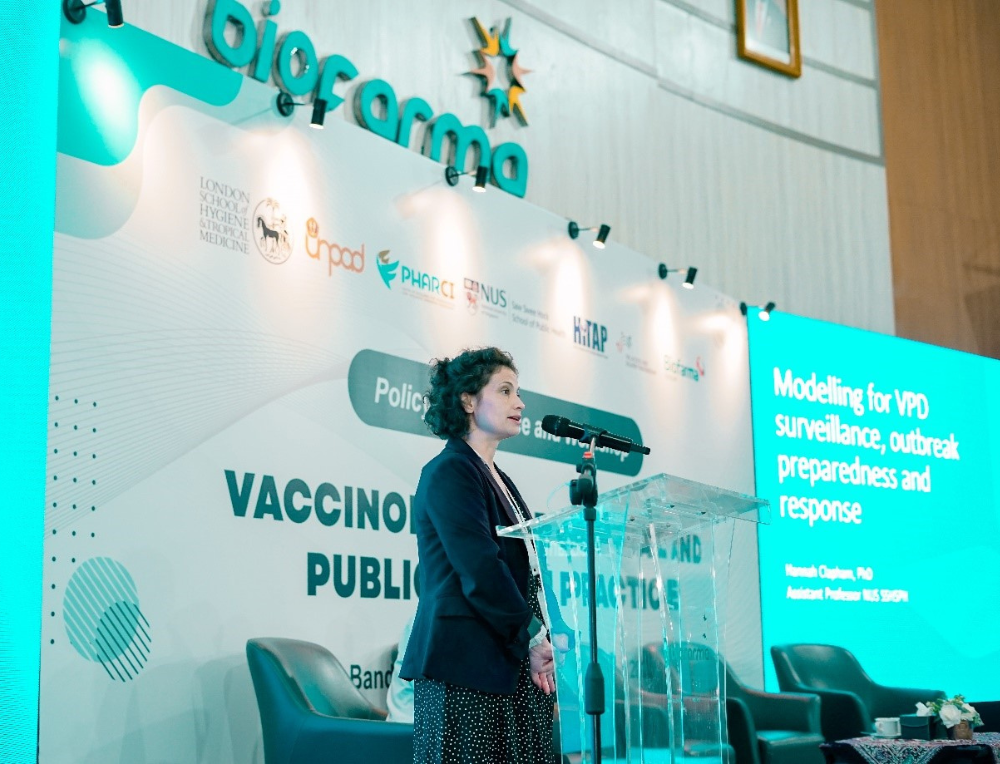 Asst. Prof Hannah Clapham during the policy conference session "Charting a path to sustainable immunization programs and preparedness/response strategies"
The development, delivery, access, and perceptions around vaccination were all significantly impacted by pandemics. The pandemic has also emphasised the need and priority of vaccines, countries can use this to promote the strengthening of vaccine delivery systems, routine vaccination programs, and vaccine policies. As a result, initiatives to strengthen technical capacity, especially within and among low- and middle- income countries (LMICs), will be key to bolstering these efforts for the current and future pandemics. Initiated by the London School and Hygiene and Tropical Medicine (LSHTM), in collaboration with the National University of Singapore (NUS) and the Health Intervention and Technology Program (HITAP), this year's policy conference and workshop for Vaccine for Clinical and Public Health Practice in Indonesia was hosted by the Center of Excellence in Pharmaceutical Care Innovation (PHARCI) Universitas Padjadjaran. The course took place in Bandung, Indonesia, from May 15-18, 2023, attended by over 80 participants from Indonesia, Lao PDR, the Philippines, and Vietnam.
Policy Conference
The course officially began with a four-session policy conference on May 15 at Bio Farma, a vaccine manufacturer, in Indonesia. Speakers from the Ministry of Health Republic Indonesia, Indonesian Technical Advisory Group of Immunization (ITAGI), World Health Organization (WHO), International Vaccine Institute (IVI), United Nations Development Programme, Biofarma, and Universities like LSHTM and NUS  were invited to discuss problems faced, lesson learned from COVID-19, and the way forward in preparing for unprecedented situations, particularly from Indonesia's perspective.
Setting priorities for new vaccines was the main topic in the first session. This session highlighted the current mechanism of introducing new vaccines to national programs and the importance of establishing a channel to link the data between healthcare providers and payers, for optimizing evidence-informed decision-making processes. The speakers emphasised the significance of local vaccine production in scaling the vaccination program and the need to communicate to the population to increase vaccine coverage.
The second session focused on the role of technology in achieving national vaccination goals. It highlighted the importance of collaboration among stakeholders, development of digital surveillance, capacity building, and establishing a comprehensive research roadmap for novel mRNA vaccine production. Additionally, procurement commitments were mentioned to ensure local, regional, and global sustainability. Effective communication and networking between stakeholders were deemed important. Moving on to the third session, the main messages centred around "From data to decisions: Resource capacity and using evidence to inform vaccine policy development." This session discussed the importance of utilizing data and evidence to inform vaccine policy development, considering resource capacity constraints.
The policy conference concluded with the fourth session, "Charting a Path to Sustainable Immunization Programs and Preparedness/Response Strategies." This session focused on harnessing epidemiological data and disease modelling to prepare Indonesia for future public health risks better.
Overall, the conference provided valuable insights and discussions on setting vaccine priorities, leveraging technologies, using evidence-informed decision-making, and ensuring sustainable immunisation programs and preparedness strategies for Indonesia's public health.
Vaccinology Workshop
A three-day workshop was successfully held following the policy conference. On the first day, the workshop focused on vaccine accessibility, epidemiological concepts of vaccines, vaccine development journey, vaccine efficacy, and herd immunity. The second day featured speakers discussing vaccine trials, statistical issues of a vaccine trial, surveillance, and epidemiologic modelling. Additionally, participants engaged with the speakers through case studies on vaccination strategies, allowing for interactive discussions and idea sharing.
On the final day, speakers presented the economic aspects of vaccination, post-licensure evaluation, and vaccine acceptance communications. A hands-on practical session of SIR (Susceptible, Infected, Recovered) modelling allowed participants to simulate the epidemiologic prediction of infectious disease using MS Excel. Participants were also encouraged to engage in a role-play exercise, brainstorming and examining a real-world case from various perspectives.
Prof. Hilton Lam, the Director of the Institute of Health Policy and Development Studies, Philippines, enthusiastically shared his thought on the vaccinology course.
"I'm so glad to join this year's course. The speakers have been excellent, the factory visit at the first day of the course was absolutely brilliant and the interactions with the fellow participants as well as with the fellow lecturers have also been very good."
In conclusion, the sequence of this policy conference and workshop provided a practical illustration of pandemic control, especially for developing countries. Despite the dreadful impact of COVID-19 over the last three years, Indonesia has demonstrated commendable efforts in managing the situation. However, numerous challenges persist. The Vaccinology for Clinical and Public Health Practice in Indonesia served as a great opportunity to identify these remaining challenges and foster an optimistic approach in seeking the way forward from all involved perspectives. By leveraging knowledge and building capacity, as demonstrated during this event, we can overcome these challenges and further enhance our collective efforts toward the common goal of ensuring health for all.
Authors: Febby Valentine Purwadi, Yasmin Fatinah, Yudisia Ausi
Affiliation: Universitas Padjajaran, Indonesia
Reviewed by: Kinanti Khansa Chavarina & Dimple Butani, Health Intervention and Technology Assessment Program (HITAP), Thailand
Funder: The Access & Delivery Partnership (ADP)
15 August 2023
By
Febby Valentine Purwadi, Yasmin Fatinah, Yudisia Ausi