Traditional Medicine Monitoring System for Better Development: Valuable Experiences as an Intern at HITAP
ต้องการข้อมูลเพิ่มเติม ติดต่อฝ่ายสื่อสารองค์กร HITAP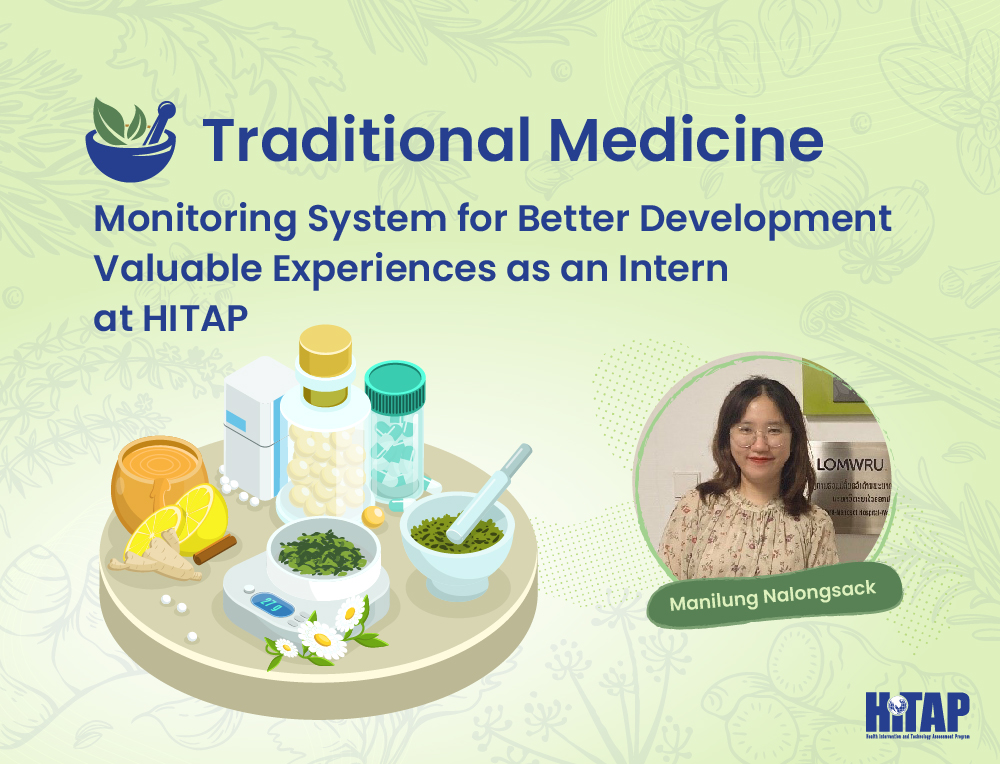 My name is Manilung Nalongsack. I am from Laos and work for Lao-Oxford-Mahosod Hospital- Wellcome Trust Research Unit. I have been doing a one-year internship at Health Intervention and Technology Assessment Program (HITAP) since September 2022. Before I joined HITAP, I had two interests, including health technology and health policy/system research, because I believe this field of work will be needed to enhance health technology, policy, and system in my country.
At the beginning of 2023, I participated in the health system evaluation project "Case study of the real-time monitoring system of Thai Traditional and Alternative Medical (TTM) Services in Thailand." This work was commissioned by WHO SERAO to gather important lessons learned from the Thailand experience in monitoring systems for TTM and draw recommendations that could be useful for other settings in the region.
Thai Traditional Medicine and Alternative Medicine coexist alongside modern Western medicine, and many Thai people incorporate both approaches into their healthcare practices. The real-time monitoring system of Thai Traditional and Alternative Medicine has been established and used under the Department of Thai Traditional Medicine and Alternative (DTAM), Ministry of Public Health, Thailand, to monitor and ensure that the quality of Thai Traditional Medicine and services have been recorded and reported.  Through participating in this project, I have gained a lot of knowledge and experiences, which improved my skills through various processes of the study:
Grey Literature Review: The research team began by conducting a thorough review of grey literature from various sources, including the Ministry of Public Health, DTAM, and reports from the World Health Organization Southeast Asia Regional Office (WHO SEARO). This extensive review offered me a comprehensive understanding of the monitoring and evaluation systems, not only in Thailand but also in other WHO SEARO member countries.
Key Informant Interviews: To supplement the literature review, the research team conducted key informant interviews with three groups of participants: program developers, data providers, and users. The interviews focused on exploring three critical dimensions: technology, human resources, and organizations. Despite initial nervousness, I gained confidence through the support and encouragement of my teammates. These interviews proved to be invaluable in enhancing communication skills and provided deeper insights into the subject matter.
Data Analysis using NVivo: After data collection, the research team utilized NVivo, a qualitative data analysis software, to analyze the gathered information. This part of the process was not only enjoyable but also provided me with valuable knowledge and experience in using the program. The findings derived from the data analysis formed a solid foundation for subsequent discussions and recommendations.
Stakeholder Consultation Meeting: To ensure the study's relevance and applicability, a stakeholder consultation meeting was organized to present the research findings and gather recommendations. During this meeting, participants shared their perspectives, adding valuable insights to the manuscript writing process. The collaborative exchange of ideas emphasized the importance of involving stakeholders and considering their input in shaping policies and strategies related to traditional medicine.
By documenting and sharing these experiences, we hope to contribute to the existing body of knowledge and promote further research in this field. Our findings highlight the importance of comprehensive monitoring and evaluating systems for traditional and complementary medicine programs, shedding light on potential areas for improvement and providing insights for policymakers and practitioners.
Participating in this study was a remarkable learning experience during my internship at HITAP. Not only did I learn how to conduct research using qualitative methods, which enriched my understanding of research methodologies and enhanced my skills as a researcher. Besides this, I improved other skills such as communication, presentation, and academic writing skills. I am grateful for the opportunity to contribute to this case study and look forward to future endeavors in traditional and complementary medicine research. Considering that Laos also utilizes traditional medicines as an alternative, I firmly believe that the knowledge and experiences gained from this project will be applicable in the context of Laos in the future.
17 August 2023